Lighthouse for Urban Agriculture
FOODMET, the new food hall at the Abattoir site will become a showcase for commercial urban agriculture: in 2016, on the 4000m2 roof an Aquaponic Greenhouse Farm System will be constructed, the FIRST one of this scale in Europe. BIG SCRL and Abattoir SA signed a concession agreement to go forward with this plan. BIG will be the tenant of the roof space and will operate the Farm System including productive gardens. The economic model is based on aquaponic technology, an integrated combination of fish farming (AQUAculture) and fruit & vegetable, juvenile plants, mini tubers and microgreens production (hydroPONIC) along with more traditional vegetables in the gardens. An exclusive restaurant and guest garden terrace at roof level is also included.
As the initial first part of the master plan, the Abattoir site will, in the coming years, provide further space for urban agriculture developments. In addition to the operating the slaughterhouse and the management of the markets, Abattoir SA has chosen a distinctive leader role in supporting sustainable food production.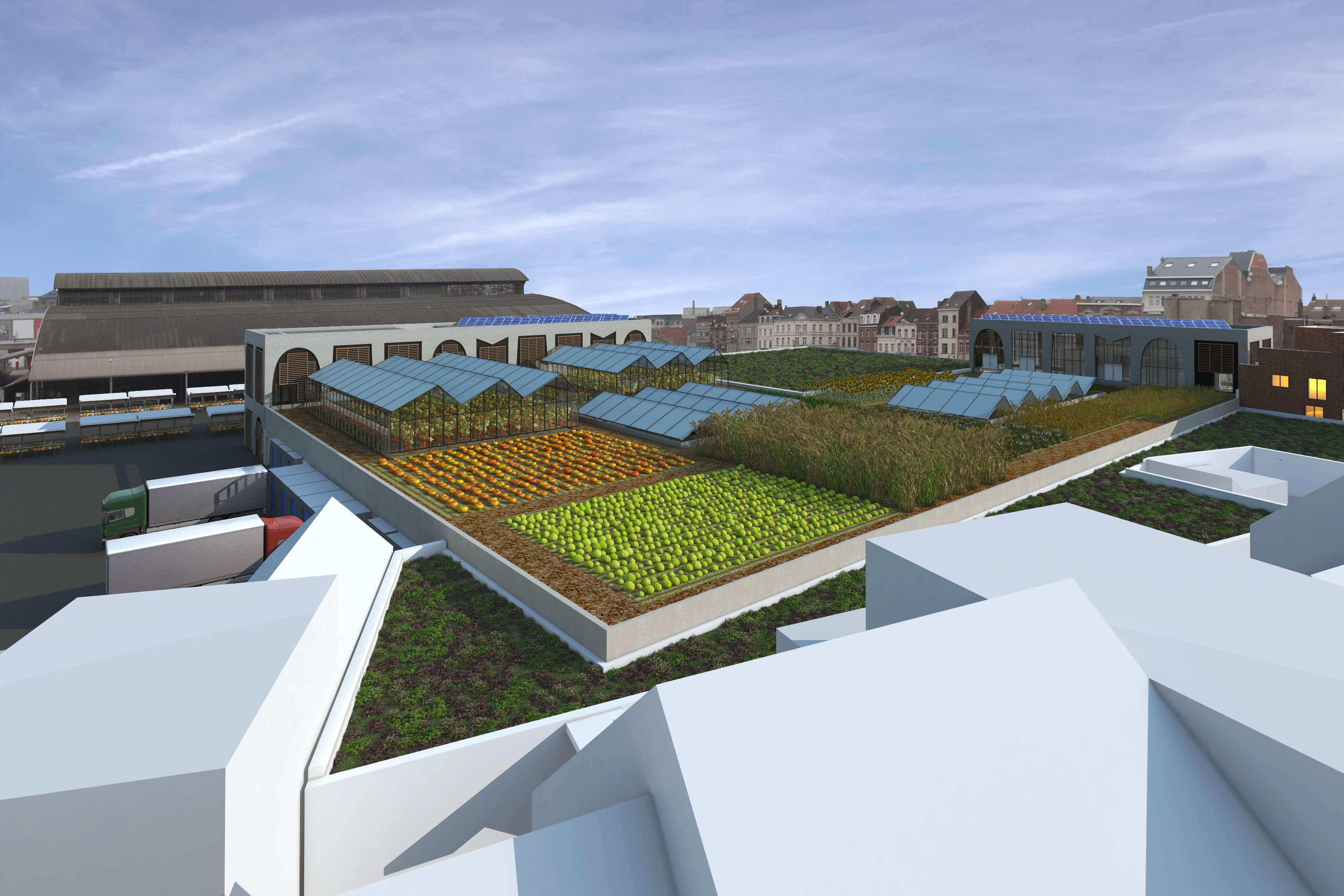 The Foodmet was inaugurated on May 29th 2015 by Mayor Eric Tomas and Minister President of Brussels Capital Region, Rudy Vervoort, launching the first phase of the Abattoir 2030 Master Plan. The food hall creation was supported by the Commune of Anderlecht, Brussels Capital Region and the European Community. The FOODMET 18 million euros investment was secured with 7,5 million Euros provided by the FEDER and the remainder by Abattoir SA and its concessionaries.  
In 2010, the Regional Government launched the first idea for a pilot project in urban agriculture, this is when Abattoir filed a proposal for the Foodmet building which became a successful candidate with 4000 m2 well exposed roof requiring only some mechanized access and both structural and roof load baring amendments in addition to the original design by ORG architects.
Shell and core of the restaurant at roof level are ready for occupancy, Abattoir SA is accepting applications of interested operators who want to benefit from the world's first menu created from rooftop products all year long. A unique concept, that will benefit restaurant, Abbatoir as a site and the urban farm in a true win win collaboration. Harvested on the same roof top, served within view of the fish farm and gardens, fresher than anything in the city, this combination and location will create local and international exposure.
After careful evaluations and negotiations with potential operators for the roof farm, the concession agreement has been signed on October 6th 2015 between Abattoir SA and BIG SCRL, for both developing and operating the whole rooftop farm. In addition of what is planned for the future urban slaughterhouse in the next phase, Abattoir SA is making important steps in supporting circular economy and close food loops.
BIG (Building Integrated Greenhouse) scrl, a Belgian company created by Lateral Thinking Factory Development, integrates the partnership of ECF, Germany (with its 2 operating aquaponic similar size farms in Berlin and Bad Ragaz) and TZervice, CH (food and agricultural innovation experts).
BIG SCRL was selected by Abattoir to develop and operate the FOODMET rooftop urban farm. The exceptional site of Abattoir in Anderlecht was favored by BIG for its unique situation ontop of one of the largest fresh markets in Europe and in support of the redevelopment of the canal area of Brussels, Capital of Europe.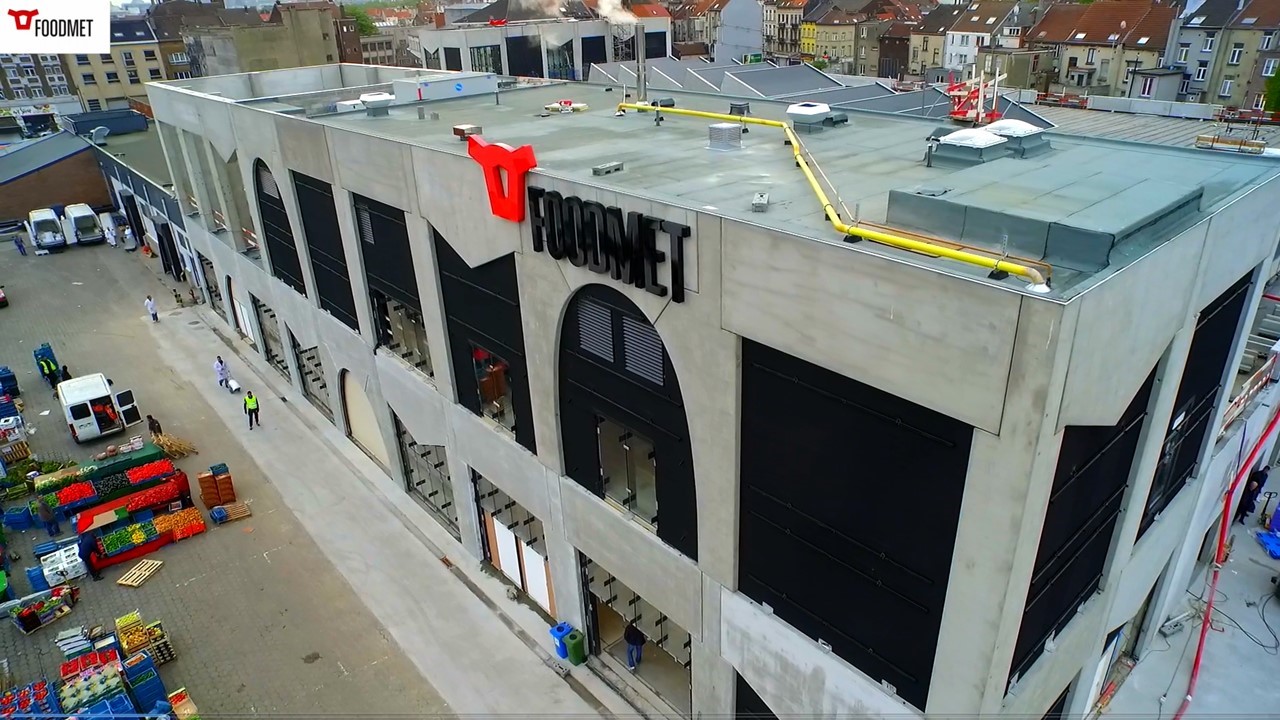 The Foodmet rooftop farm will produce in an economically successful and efficient sustainable way, starting from mid-2016, offering high quality fresh fish and produce (zero antibiotics and zero pesticides).
To produce fresh fish and produce as close as possible to the point of sale, Abattoir is the ideal platform to introduce innovative food production with products for the fresh market with over 100.000 shoppers over 3days (seeking to extend the opening hours) and for local distribution channels, speciality retail, restaurants and wholesalers within a short distance.
The project features 1800 m² in greenhouse space and the equivalent in productive gardens, offering positive impact, create value for the district and FOODMET building performance by:
•    Production of 30 MT of fresh fish with 75 MT of seasonal produce
•    Heat recovery from the cooling spaces of the market
•    Rain water harvest
•    Thermal protection of the building
•    Biodiversity diffusion
•    Job creation in both farming and transformation and restauration.
•    Support of social and inclusiveness training projects
•    Social diversity support
•    Logistics free mobility
•    New commercial use of existing rooftop
•    Optimal use of existing infrastructure 365 days/year
•    Real estate valorisation by improved performance and attractiveness
•    Marketing force for Foodmet and Abattoir mixed development plan
•    Lighthouse for innovation and applied circular economy
•    Support to create more urban biodiversity
•    Production without pesticides and antibiotics
Brussels Capital Region will benefit from approximately 5 farms planned in the immediate future, in and around the city pentagon, in order to offer complementary local products and supply a significant amount of fresh fish and produce to the city. This attractive proposition has the potential to offer the city of Brussels a new added value in applying existing urban agriculture initiatives.
 

Building Integrated Greenhouses SCRL
Rue Bara 175 – 1070 Anderlecht
Mathieu BONIN, Administrator
Phone : +32 (0)2 560 21 36
Mobile : +32 (0)472/78 56 96
Mail: mathieu@lateralthinkingfactory.com